Monitoring & Alerting For Multi-Channel Sellers

Overview
I was the Product Owner and Designer for Catalogue Monitor, an app for supporting large multi-channel e-commerce sellers. Providing peace of mind with a "state of the world" overview of their many stores and highlighting performance changes which may have gone unnoticed.
Involvement: 
Product Owner, Product Design (UX & UI), Marketing Materials & Brand Identity.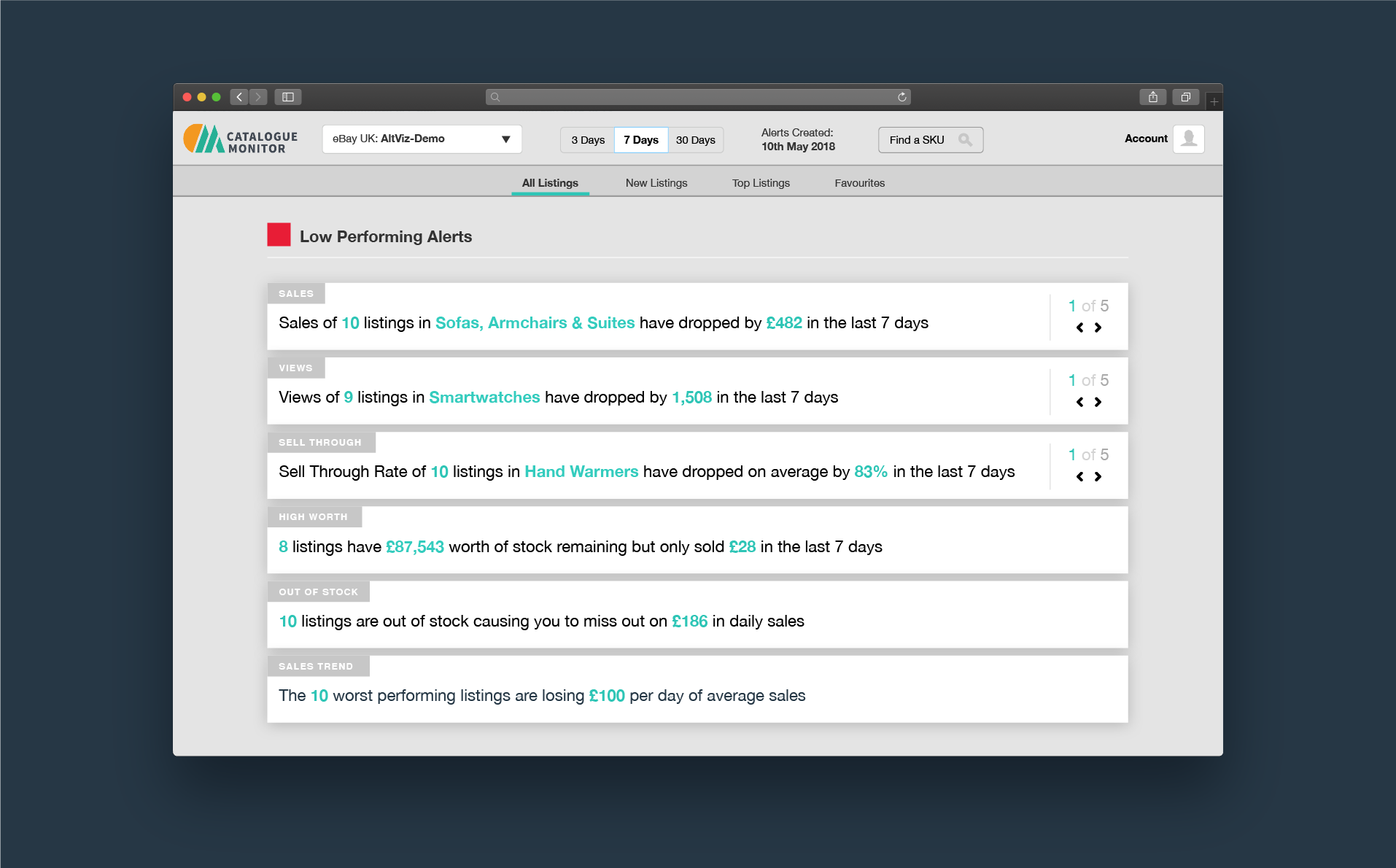 Problem
Multi-channel sellers have a hard task monitoring their sales and stock across their many marketplaces, resulting in missed opportunities. There are multi-channel management tools which have the primary function of managing sales and inventory. However, many are missing the alerting and analysis that sellers need.
We came across this problem when speaking to our ListSmart customers, so we decided to investigate the scale and value of the problem.

"Marketplaces like eBay and Amazon are a mystery – it's so hard to get a complete picture. They're like a black box."
Large e-commerce seller – Customer Research
Research
I produced a survey to gauge the size of the problem and discovered ways sellers worked around it. Using LinkedIn I ran a marketing campaign for the survey, targeting Heads of E-commerce and similar roles. Working in collaboration with a User Researcher we carried out interviews of large multi-channel sellers. I created quick mockups and prototypes of ways we could resolve the problem and ran users through them. Over a couple of weeks, I ran several iterations, finally narrowing down on a few core issues sellers had. Alongside this, I researched the competitor landscape and which marketplaces we need to consider adding. From the feedback, I produced personas for the product.


•  Busy operational e-commerce teams are time precious.
•  Multi-channel increases the workload multiple times over.
•  Existing tools focus on charts, not pinpointing the problems.
•  Data from multiple sources is required to show one consistent context.
• Sellers would like to save money by throwing away existing expensive and clunky channel management analytics solution.
Sellers wanted to know when:
• Categories are the best and worst performing quickly
• Top sellers are outselling them
• Sale volumes drop
• The sell-through rate drops of rises
• Listings with long listing durations are underperforming
• Items with significant stock levels have low sales
Solution & Challenges
Sellers are time constraint on what metrics they would be able to review, analyse and action each day. As a result, it was clear that we needed to present a high-level view of all their marketplaces with information prioritised to allow it to be digested quickly.

The solution was a limited number of alerts. Which are a short sentence with all the information needed within it to be able to quickly scan and decide if it is something that needs looking into.
Alerts are divided into low and high performing alerts with low at the top as sellers monitor these closely. Initially I showed only the top category for alert were listings had dropped in sales and views, as to limit the list. However, feedback from sellers showed that we needed to allow them to see more categories for these type of alerts. For later versions we expanded it, allowing a seller to look at the top 5 categories for each alert.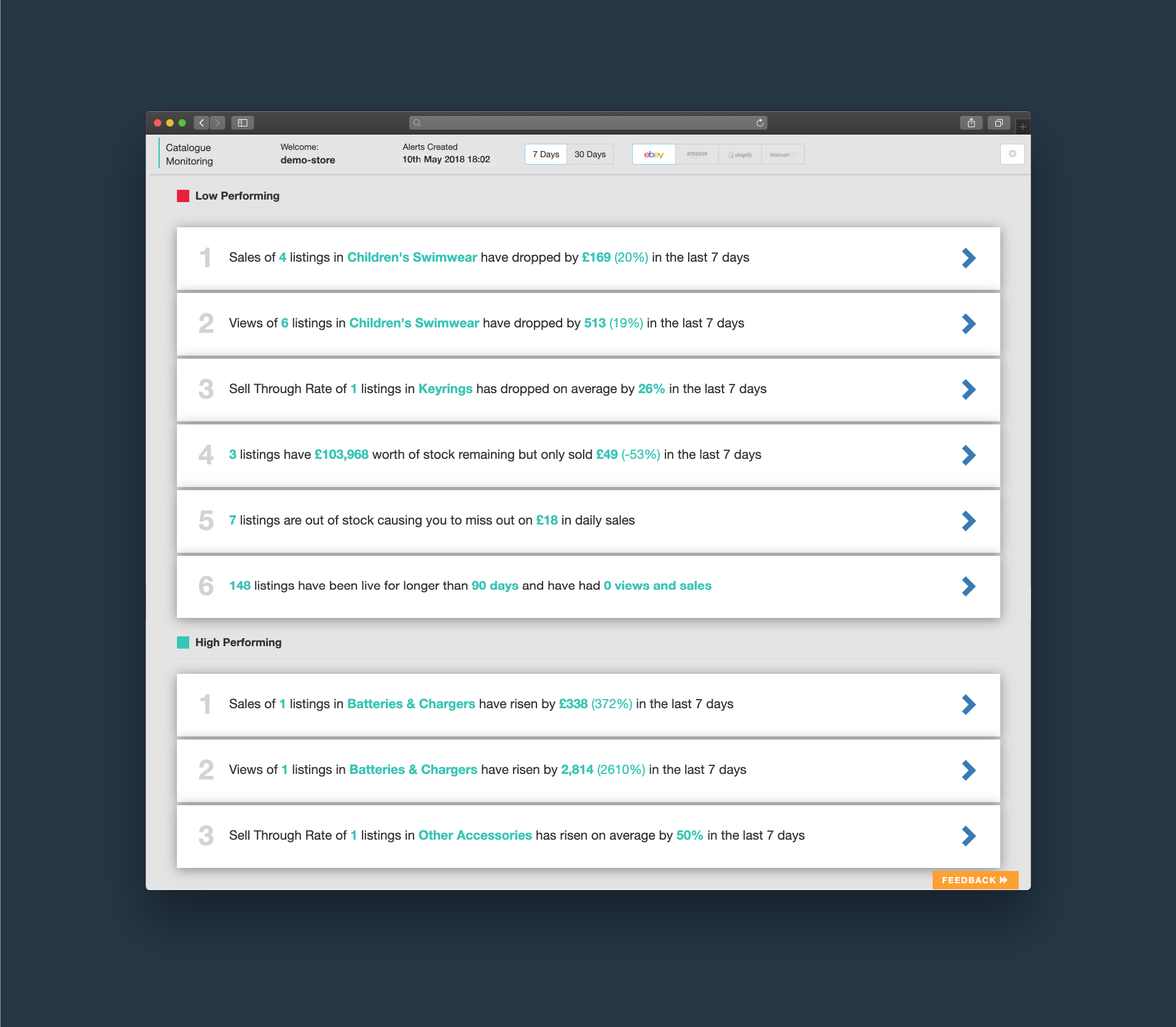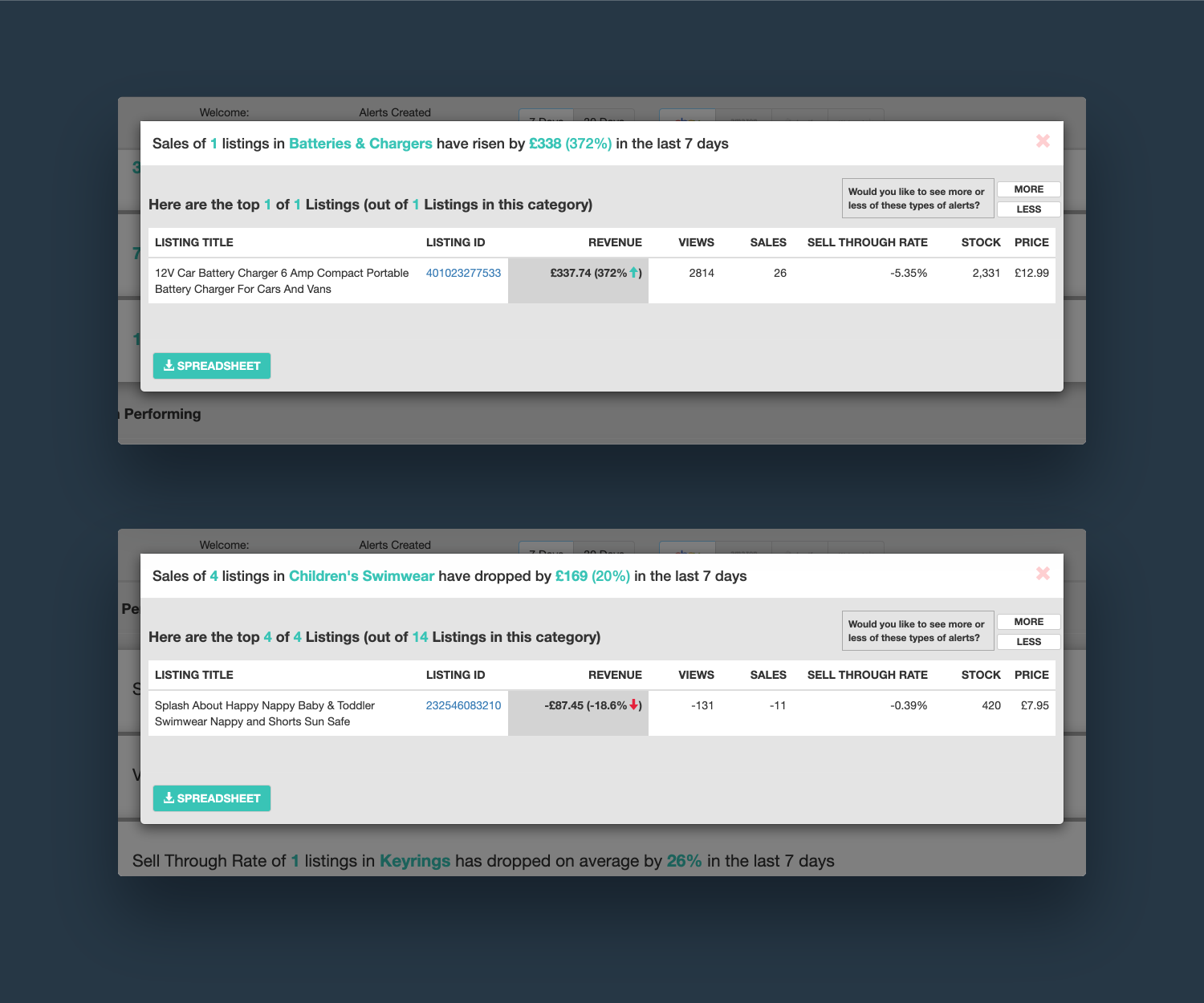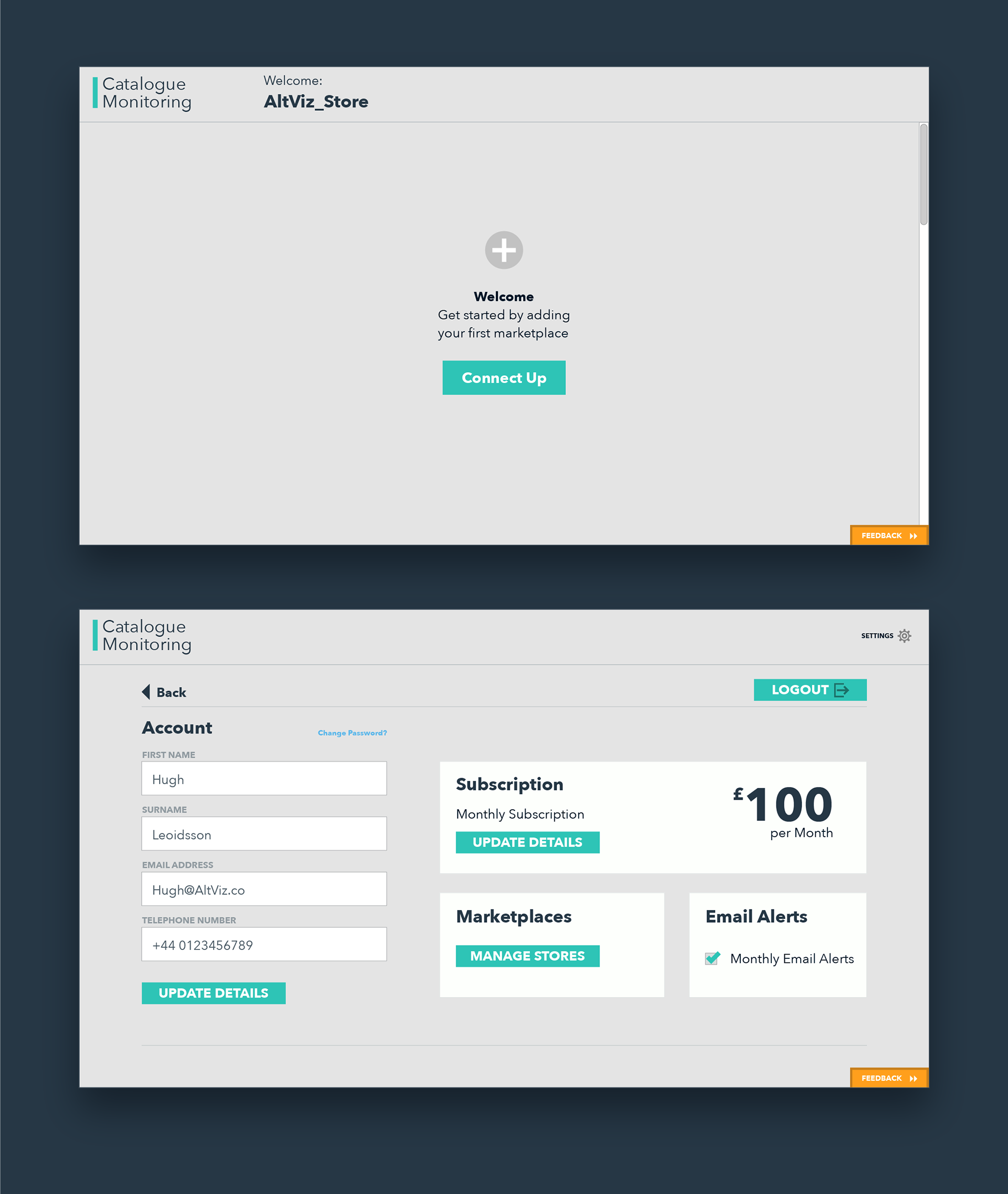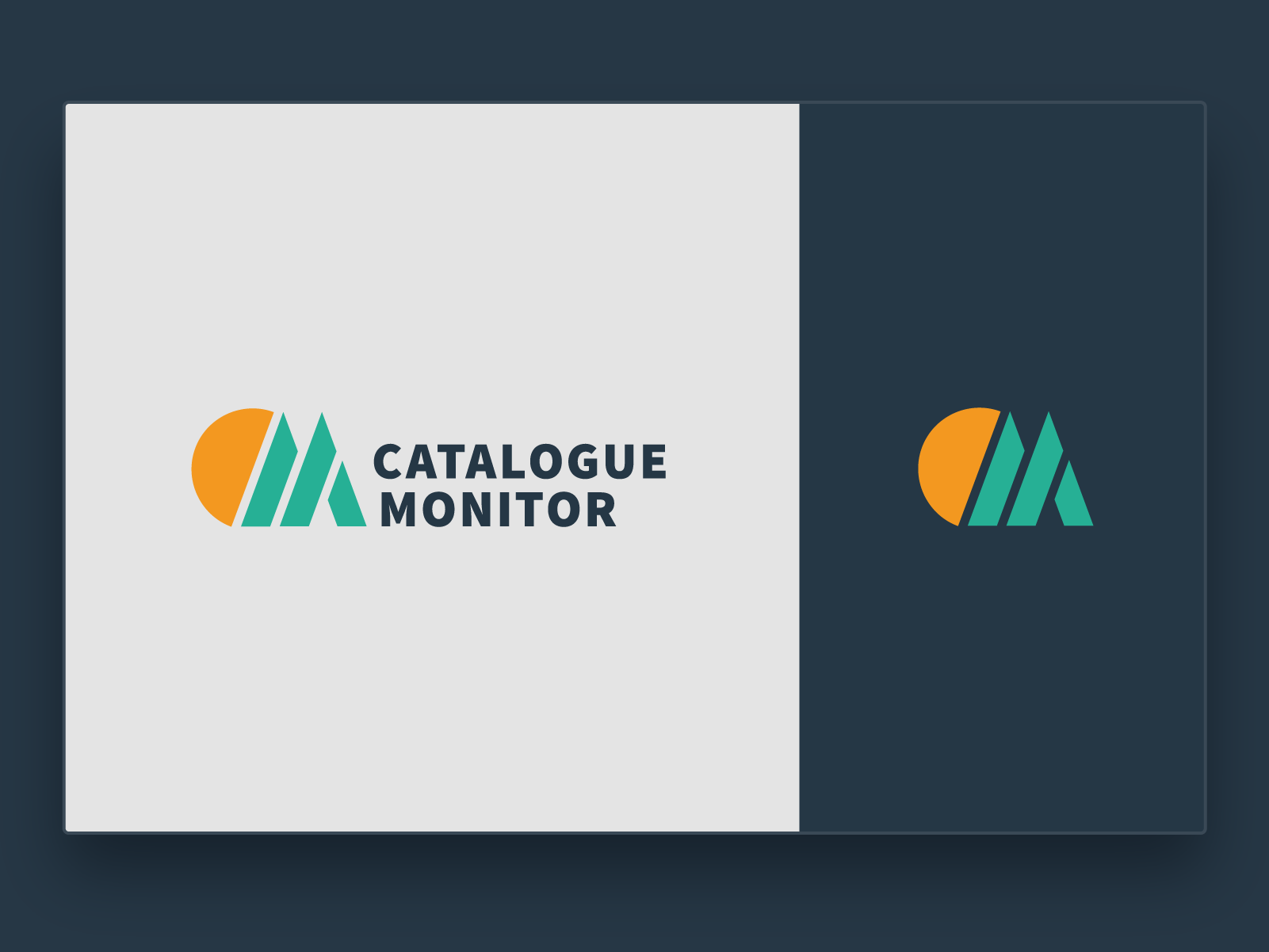 As the Product Owner, I was in regular contact with the engineering team in Cork, Ireland. Setting the priority of user stories in each sprint and reviewing their output. As they are remote our daily standups and monitoring the sprint-board was vital in understanding the progress of the product. In addition, I made fortnightly trips to meet in person and created worked examples of data breakdowns.
I collaborated closely with the sales team to get them confident with the features of the product, but also give them visibility on the product roadmap. I sat in on calls and demos with customers to hear their questions and feedback. This feedback helped with understanding what was working, but also, as the Product Designer, to see how I could improve the user experience.
Previously, we had only integrated with eBay, so adding Amazon and Shopify each came with their own complexities. For example, we had to create a new category tree to normalise the data, as all three marketplaces have different methods.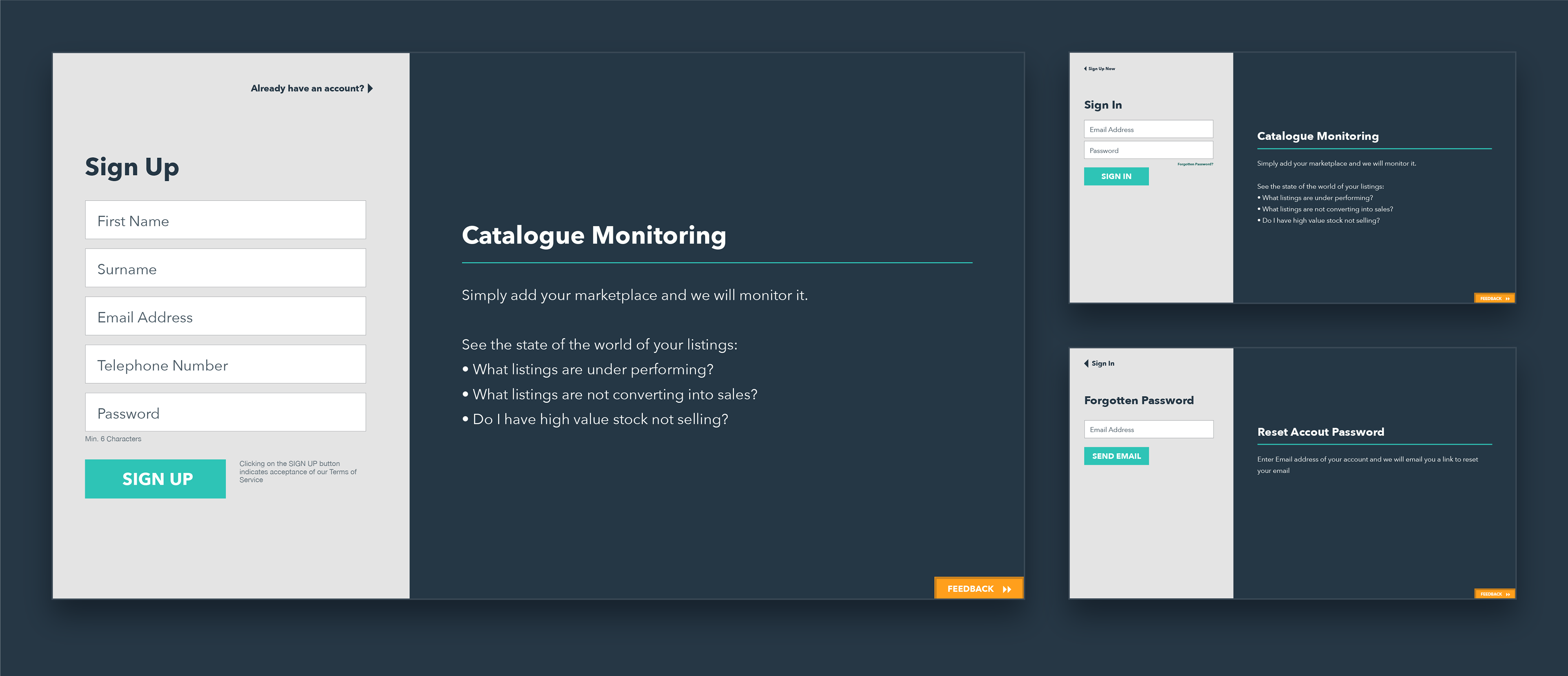 Result
Catalogue Monitor was a SaaS application sellers can connect their eBay, Amazon and Shopify marketplaces to. Using the daily alerts, sellers were able to monitor all their stores for key metrics.
After 12 months of developing and improving the product, the customer base was not growing fast enough to support. As a result Catalogue Monitor was sunset.